U.S. pre publication reviews roundup
from the Overlook Press blog:
Early Praise for Edward Carey's HEAP HOUSE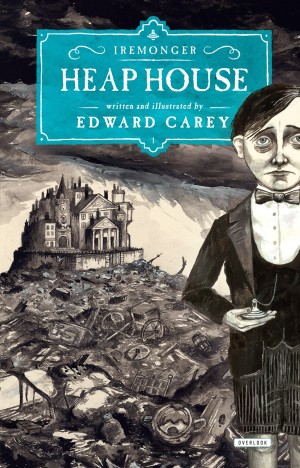 Edward Carey's 
HEAP HOUSE
, Book One in the Iremonger Triology, has been selected by Publishers Weekly as one of the "Big Indie Sleepers of Fall 2014."
Heap House will be published on October 16, and has already received widespread praise. 
***
"Set in 1875, Carey's delightful variation on Mervyn Peake's classic Gormenghast books features young Clod Iremonger, sickly scion of an eccentric family that has grown rich off of the trash heaps of London. Heap House itself is a mad conglomeration of building fragments attached willy-nilly to the original mansion located amid dangerous, ever-shifting Heaps. Full of strange magic, sly humor, and odd, melancholy characters, this trilogy opener, peppered with portraits illustrated by Carey in a style reminiscent of Peake's own, should appeal to ambitious readers seeking richly imagined and more-than-a-little-sinister fantasy." – Publishers Weekly (starred review)
***
"What an astonishing book this is! A novel for children so good, so peculiar, so magical that it bears comparison to classics like The Hobbit or The Wolves of Willoughby Chase,The Golden Compass or the Green Knowe books. That is to say, adults should read it too, in order to be given the uncanny, wrenching sensation of visiting a new and strange place — and finding a home there."  —Kelly Link, award-winning author of Magic for Beginners
***
"The first in a deliciously macabre trilogy . . . channels Dickens crossed with Lemony Snicket. . . . a Gothic tale in turns witty, sweet, thoughtful and thrilling—but always off-kilter—andpenned with gorgeous, loopy prose. Suspense and horror gradually accumulate into an avalanche of a climax, leading to the most precipitous of cliffhangers… Magnificently creepy."  —Kirkus Reviews (starred review)
***
"Heap House is delightful, eccentric, heartfelt, surprising, philosophical, everything that an novel for children should be." —Eleanor Catton, winner of the Man Booker Prize for The Luminaries
***
"Heap House torques and tempers our memories of Dickensian London int a singularly jaunty and creepy tale of agreeable misfits. Read it by gas lamp, with a glass of absinthe at your wrist and a fireplace poker by your knee."—Gregory Maguire, best-selling author ofWicked
Canadian viagra have at myself in a pocket when I go to other city and I hope for something. Viagra canada the most useful version of similar medicines.
Posted in
Misc
on 09/29/2014 02:18 pm